If you missed out on the first or second run of the M&M Models Color Guide by Mike Marecki,
I have some good news for you!
After speaking with Mike the other day, he committed to doing another run of the book IF there was enough interest.
For those of you that do not know about this book it is the much sought after and
EXTREMELY
RARE M&M Models Color Guide that includes paint chips from all the countries listed below. If you need a color documentation source that has not been easily available for years now, Mike may be doing another small run for a VERY limited time if we can get enough people to commit.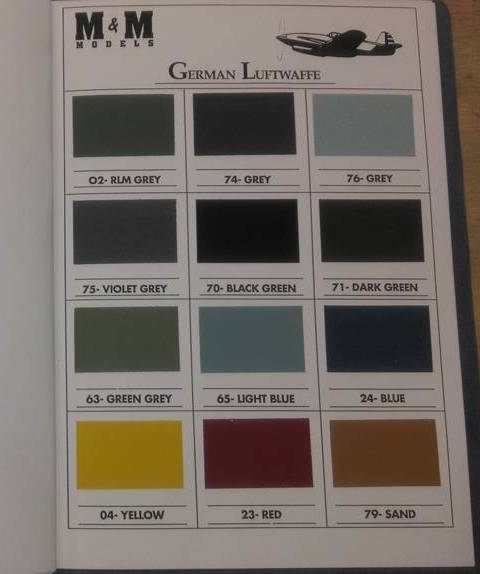 Countries included in every book:

1939 - 1945...

U.S. NAVY - 12 colors

U.S. ARMY AIR FORCE - 9 colors

U.S. AIR FORCE 1946 TO PRESENT - 22 colors very limited supply

LUFTWAFFE - 12 colors

JAPANESE - 11 colors

ITALIAN - 7 colors

RUSSIAN - 9 colors

R.A.F. - 15 colors




Over 100 chips in every book!




What I need from you guys is if you are interesting in purchasing one or more books he needs a SOLID COMMITMENT of 50 books or more at $60.00 US (includes domestic shipping, $10 extra for international shipping) each to make it worth his time.




If you want one or more of these books please post below with the number of copies you wish to purchase to let Mike know. If there is enough interest Mike will be making the books up in January. This is a GREAT resource and a must have for your scale reference library!




UPDATE: Mike Mereki just let me know he is also including 14 new colors in this release including a
page of French color chips. Also, the book will contain six pages of various countries color schemes/reference.




PLEASE SEE PURCHASING INFORMATION ON PAGE 10 OF THIS THREAD.




__________________
Mike Chilson,
RCSB Founder
--------------------
Update Your Browser!