RTL Fasteners would like to extend an exclusive offer to RCSB Site Supporters!

During the month of September only, here is your chance to stock your shop by purchasing one or both
of their most popular model builder assortments at a DEEP DISCOUNT off our website listed price!

Our
S.A.E. Master Assortment #5000
has it all….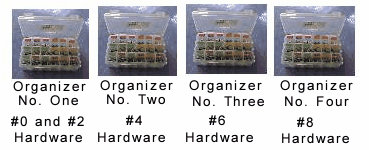 2,124 S.A.E size pieces
of hardware. Also includes four adjustable organizers
with 18 compartments each.
Click Here for more details about our S.A.E. Master Assortment
Our
Metric Assortment #992
has what you need...

The Complete Metric Assortment #992 contains a generous supply of all the metrics you need

for model building.

1,014 pieces

plus three organizers! It contains the most often used metric sizes.

Click Here for more details about our Complete Metric Assortment




Our assortments are designed by experienced modelers, so you have just the right mix of hardware for your building projects. All of our hardware is high quality and perfect for model aircraft. Owning these assortments is like having your own private hobby shop available day and night! Here you get all the hard to find sizes for a fraction of retail!






__________________
Mike Chilson,
RCSB Founder
--------------------
Update Your Browser!