The Grumman F8F Bearcat is a unique subject overlooked by many. This fighter was "state of the art" in it's time and offer many excellent attributes as a modeling subject. This walk-around is PACKED with 150 high resolution and very detailed photos of two different subjects located at the Chino Air Museum. If you are considering the Bearcat as a modeling subject you need this walk-around.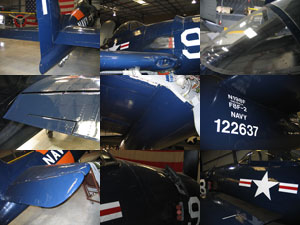 This is a great subject and a MUST for your walk-around collection.
If you are a
RCSB Site Supporter
you can download the .zip file by going to "
Site Supporter
" and "
Downloads
" on the site menu or click on the link below.
http://www.rcscalebuilder.com/forum/forum_posts.asp?TID=2251 7
If you are not a Site Supporter you can learn about the benefits of becoming one by clicking on the link below:
http://www.rcscalebuilder.com/page_display.asp?pid=5